The Ring in the Lake: reunited
Leadership development can sometimes be a dramatic process, but rarely comes at such a high personal cost. Back in April 2017, Marcus Simpson took away great memories of a leadership event, but also left something valuable behind.
Marcus was part of a team from Lookers PLC, a leader in automotive retail, who came to Dove Nest Group's Fallbarrow Hall for a leadership and team building event. One of the exercises was designed around getting the team out onto the water. Although their objective was realised, Marcus noticed that his wedding ring was missing. The Dove Nest team scoured the water's edge but to no avail. Although the exercise was achieved, the ring had been lost.
Speaking to Marcus, he explained
"the event was excellent, but losing my wedding ring meant that I had some explaining to do when I got home."
Fast forward to this particularly dry and sunny summer. One of Dove Nest technicians, Andy Bailey spotted something at the edge of the lake.
"The water level had dropped significantly over the weeks of hot weather. I looked down and there it was"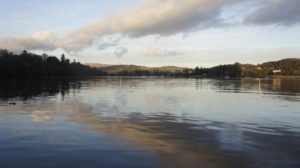 Andy passed the ring to Dave Moore, chairman and co-founder of Dove Nest Group. "I could remember the group from the previous summer and I knew Marcus would want to be reunited with his wedding ring" – said Dave.
Happily, Marcus has now been reunited with his wedding ring and was philosophical about the experience
"It was amazing, I never expected to see the ring again. But to have it returned in such good condition, was great."
Over the last 36 years the Dove Nest team have helped clients develop leadership and management capabilities. If this is something you would be interested in exploring, call us on 015395 67878, email us at enquiries@dovenest.co.uk or visit our website at www.dovenest.co.uk.